Girls' Basketball Team Dominated Their League this Season
The girls' basketball team brought it to the table and delivered it for Pace. The girls had a pleasing 11 wins and three losses in their winter basketball season.
At one of their wins at a home game, the girls scored a whopping 103 points led by the shining-bright-as-stars captains, Faith Howes and Daniela Umeweni.
Mr. Cyphert, one of the team's coaches, was pleased with the effort and turnout of this year's team.  "It was great, we had a lot of fun," Mr. Cyphert said. "We had a successful year and we made it to the playoffs. We improved a lot throughout the year, especially with the Omicron spike when there were just a lot of question marks about games." 
The Omicron variant was the main setback for this season with the amount of cancelled games and the uncontrollable spike in Covid cases. The mask requirement especially made it challenging for the players to continue with their practices. 
"There was a time in January when we had to cancel a bunch of games and practices," Cyphert said. "It was definitely hard and people were out sick. It was challenging but we got through it."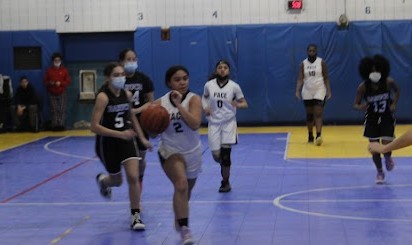 They were an incredibly hard-working team bonded by unity, and they were able to give it their all despite the disappointing circumstances many teams had to face during the 2021-2022 season.
Co-captain Daniela Umeweni felt ecstatic and proud of the basketball team this season.
"Progressing from freshman year, it felt really cool. At the beginning of the season, I was excited. I didn't know what we were gonna get into. These people were gonna be my friends. It was a bittersweet thing but I was proud, and we made progress," said Umeweni.
This season wasn't only a challenge for the coaches, but the captains felt it mutually as well. Along with the wins and losses of the team, the girls made it to the playoffs. "We made it to round one. We lost in the second round of the playoffs, but I'm glad we tried and gave it our all. It was unfortunate that we did lose," Umeweni said.
The girls' basketball team had an overall successful season with many wins, a few losses and many lessons all in one.
Leave a Comment
About the Contributor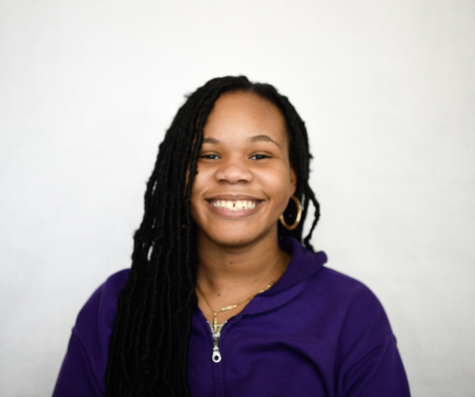 Winifred Haastrup, Photo & Digital Media Editor
Winifred Haastrup, sophomore at Pace High School, is the photo & digital media editor for the PacerNYC. She is a devoted Christian and animal lover...