Boys' Volleyball Ends the Season Strong in the PSAL Quarter-Finals
For Coach O'Sullivan and the boys' volleyball team, a season of growth came to an end during the quarter-finals of the PSAL division B playoffs. The Setters were ranked sixth in division B. The team's heightening season, with a 9-1 league record, is all due to the team's pertinacity.
Additionally, the 2022-23 season completely shifted the future of Pace volleyball.
Emma Lazarus High School students joined the Setters on their journey to the playoffs. The addition of Zonglin Wu, Jindong Zhao and Noin Lidzhiev brought a series of severe changes to the team.
Zonglin Wu, with 52 kills, 49 digs and 78 service points in both regular and playoff games, ended up ranked eighth citywide. Wu played as outside hitter with a consistent level in back row defense.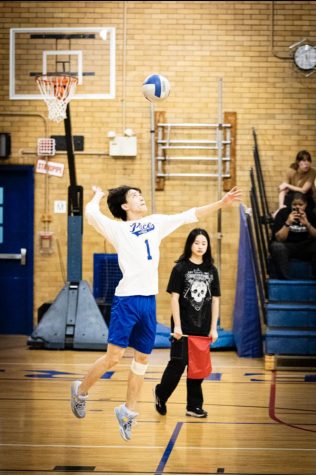 Zhao played the position of outside hitter in the beginning of the season but he was used as a defense specialist in Pace's last couple of games. He contained a level of skill variety that allowed him to have a solid level of defense and hit adjustments throughout the season.
Lidzhiev was deemed the "least stressful person on the team," according to Coach O'Sullivan. Lidzhiev was consistent throughout the season and his main skill was his ability to attack through an opponent's block.
Joseph Landy, sophomore, played as the Setters' libero. The team was testing line ups throughout the season and went through with the strongest option. Juan Alejandro-Soriano was originally the Setters' libero last school year. However, Landy was jolted into the position due to experimental line ups and shifts in position placements that were meant to highlight each individual's skill. Landy believed that the Setters had a better team mentality compared to last year, which allowed them to further help each other out.
"We can get a lot more chemistry and start working together. We did that this year but I feel like we can improve that next year and just keep practicing," said Landy. "Just do what we have to do."
Tiago Neves, a junior who was the team's setter, performed well with 91 assists and 63 service points. Neves holds strong emotions towards this year's team and how he envisions the 2023-24 volleyball season.
"I think that we could play smarter volleyball," said Neves. "I think we were playing down to our division. I don't think we were playing up. Next year, we're going to play in a more advanced system, more advanced volleyball."
Unfortunately, the Setters will be losing two huge pieces on their team: Zonglin Wu and Jared Vargas.
Star captain and senior Jared Vargas ranked sixth citywide with a total of 111 kills in both regular and playoff games. Vargas' formidable skill and contributions to the team led the Setters this season.
Vargas believed that the team was vulnerable towards the beginning of the season, since "everybody didn't know each other's strengths and weaknesses," said Vargas. "There were a lot of misunderstandings at practice as well. But as the season went on, we started to figure each other out. We became close, we became brothers."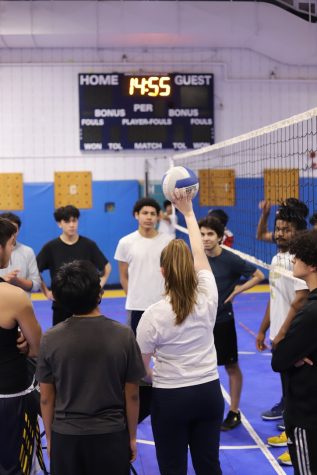 Post Covid pandemic, the Setters struggled to regain the momentum they once had. The perspective that the Setters had on the sport completely changed and allowed the team to look towards a brighter future in citywide volleyball.
Coach O'Sullivan believes that there was nothing that necessarily could have gone better. O'Sullivan believes that the addition of students from Emma Lazarus High School changed Pace's momentum this year and in the near future.
"One of the things that I really enjoyed seeing was the camaraderie between the two schools," said Coach O'Sullivan. The team was super driven to really succeed and they wanted to compete at a higher level. "This is probably the best boys volleyball team this school has ever had," she said.
Leave a Comment
About the Contributor
Ally Dolores, Editor-In-Chief
Ally Dolores, a sophomore, is the Editor-In-Chief of Pacer NYC. She is known for taking initiative in situations where she is needed. Ally has learned...