An Unexpected Return
When you think about graduating from high school you don't expect to be back, but Mr. Suriel and Ms. Knight-Meade made other plans. Teachers Mr. Suriel and Ms. Knight-Meade were Pace students here almost a decade ago.
In 2021 Ms. Knight-Meade came back to teach, and now teaches U.S History and Algebra.
Ms. Knight-Meade said she enjoyed her time at Pace as a student. There were fewer students then and a more "tight-knit community," she said. Pace felt like a big happy family.
This past September Mr. Suriel also came back as a physics teacher. Mr. Suriel said that Pace is "pretty much the same."
During the time Mr. Suriel was a student, Mr. Glatz wasn't the principal "Mr. Chong was the dean at the time," Mr Suriel said, "and it was kinda the same kind of environment, same teachers for the most part and the student culture is still around the same."
As time goes by every generation changes, said Mr. Suriel. Big technology changes also happen, the now smartphones the new generation have now arent the same to when Mr. Suriel and Ms. Knight-Meade were growing up, it was the Blackberrys.
Changes took place to Pace throughout the years. According to Ms. Knight-Meade events like PaceGiving were better then than now since everyone was so close it was almost like "a huge family dinner." She said, "The environment was lax in terms of freshmen getting along with seniors, seniors got along with 10th grade and it was like one big class."
In terms of PaceGiving she said it was an event that changed the most. "PaceGiving used to be a whole big thing, like we used to use the biggest room on one of the floors and then there would be like two rooms full of food and you could just walk around and eat food."
With time comes changes. Mr. Suriel said, "It's a bit weird because of the dynamic now. I'm an adult just like them [the other teachers] and we can speak to each other in a different manner. As far as relationships go, it's the same relationship I've had with my teachers, very open and honest."
Despite feeling weird, Mr. Suriel also revealed that it was comforting to come back into a familiar environment. "Very open and honest communication, and I was never a knucklehead in class so they were happy to see me. It feels good to work with them because I am open and comfortable with them."
Ms. Knight-Meade also felt a sense of deja vu when walking through the hallways not as a student but as a teacher. It was "definitely a learning curve, remembering I'm an adult now and not a student."
Leave a Comment
About the Contributor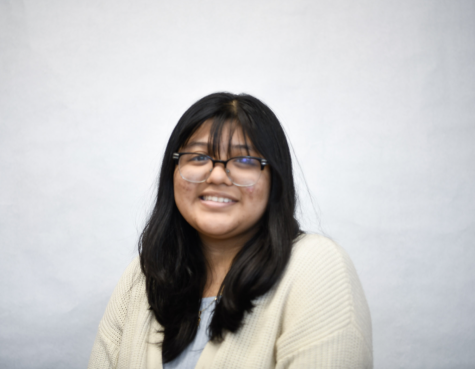 Kate Iza, Digital Design Editor
Kate Iza, a sophomore at Pace High School, is a reporter for the Pacer but her interests venture off towards other aspects of journalism, such as design....