Wild West Violence and Vengeance in "The Harder They Fall"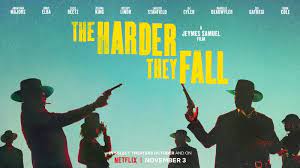 Guns. Cowboys. Vengeance. Idris Elba and Regina King as antagonists. What more could a person want?
"The Harder They Fall" directed and written by Jeymes Samuel and Boaz Yakin starts in the setting of the Wild West. The story starts off with Rufus Buck (Idris Elba) disturbing the peace of the Love residence.
The main protagonist, Nathaniel Love (Jonathan Majors), is a child at the time shocked to see his parents with bullets cascading their bodies at their dining table. To never forget the trauma that he saw, Rufus marked Nathaniel's face to help him remember this event. By sparing his life, Nathaniel devoted himself to a life of vengeance to kill Rufus Buck.
Years later, the criminal Rufus Buck is being transported to a maximum-security prison through a train. However, it was intercepted by Rufus Buck's crew. The scene entailed the crew boarding the train and getting violent with soldiers. All these events led to the escape of Rufus by Trudy Smith (Regina King), the second in command.
Once these two finally meet, there is huge tension between these characters. Nathaniel stole millions of dollars from Rufus resulting in him kidnapping his lover. This gun-crazed showdown resulted in a shocking truth that shakes the relationship of Nathaniel Love and Rufus Buck.
Of course, this love for this historical film is evident since it won Best Picture at the African American Film Critic Association Awards with their Western Theme.
Leave a Comment