Despite the library's importance as a resource center, the space lacks the accessibility for accommodating students of Pace High School, Emma Lazarus High School, and Sun Yet Sen Middle School, within the building.
"The library is where you can really focus on school work, " Devon Singh, sophomore, said. "A school without a library means a big chunk of learning capability being lost."
The library is riddled with problems but the major issue is that the library is not being used for its purpose, "It feels like a waste of space," Mr. Prado, computer science teacher, said.
The library is currently used for storage and staff meetings, and there are no staff members that are able to volunteer to supervise the space during or after school.
Ms. Mornhinweg, an IEP teacher, expressed her thoughts when asked, "Did the school you previously taught at have a library?" She replied, "No, they did not. It really is a city-wide issue."
She also spoke about how students frequently express interest in reading more books, particularly by the same author, after a given topic is discussed in class. She emphasized the importance of having a library, especially considering that English is a subject that requires novels.
The books that have been sitting there since the early 2000s are failing to serve their purpose. "But the books, physical books that are in there are very antiquated, not useful," saidPrincipal Glatz.
Why not donate the books to a foundation?
"We have attempted that. Most times when we get to that point they're not even interested in them." said Mr. Glatz.
According to the NYC Library Materials Aid, public or nonpublic schools are rewarded up to $6.25 per student to spend on library materials. However without proper management, the funds remain unused while the book collection gathers dust.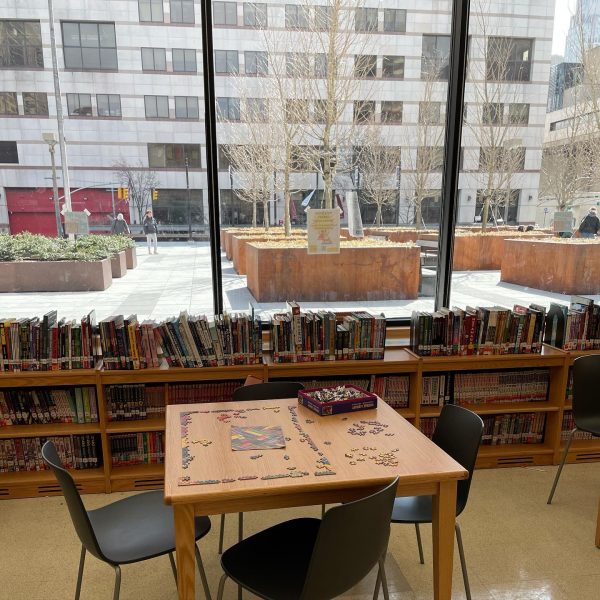 Teresa Tartaglione, librarian at the Martin Luther King Jr Educational Campus, suggests prioritizing budgets for updating book collections and applying for additional grants. "There is usually the Laura Bush Grant that comes out every year, and that is $5000 to buy library books," she said.
Restoring the library is a challenging task due to the shared building between three schools, despite strong communication between their administrations. Lack of staffing has been an issue since 2006, according to Mr. Giovacchini, principal of Emma Lazarus High School. The topic has been discussed before but not resolved in over a decade.
Tartaglione faced similar challenges when her school's library closed during a transition to smaller schools.
"Students will come when they have lunch, but it's not like if one student is here with lunch and blocks anybody else out. Because their lunch periods are staggered," she said about coordinating shared schedules.
She explained that not having a library costs students crucial literacy and research skills. "The students are not getting those skills, then when they get to college. We have found anecdotally that they are lacking those research skills, and they tend to not stay matriculated in college because they do not have the skills they need," Tartaglione said.
Tartaglione also said, "To have to have a room of books is one thing, but to have a library with a library program that really brings something else to the school like it is a space where everybody in the entire building can be and can share, so teachers can use the space, students use the space. Anybody in the school."
She believes a library is more than just books–it can be a shared space that brings the school community together.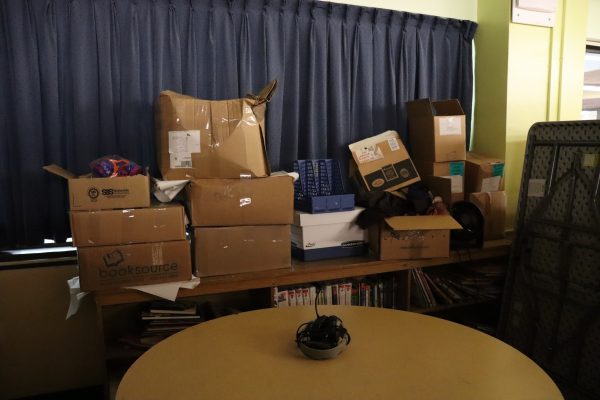 Despite these challenges, there is hope that the library will be made accessible again soon. Principal Glatz has expressed his commitment to working with the other two schools to find a solution. He mentioned the possibility of collaborating with the other two schools to hire a librarian to manage the space.
Mr. Giovacchini, mentioned that the library would be another shared space, similar to the auditorium, cafeterias, and the commons.
The library is not often seen as an essential resource like the cafeteria or auditorium. However, State law requires that any secondary school should have an established library and it should be maintained. But what good is the law if it's not being enforced?