'Daisy Jones & the Six': The Rise of a Dramatic Band
Rating: ⭐⭐⭐⭐☆
Sometimes book-to-show adaptations are unfavorable, but writer Taylor Jenkins Reid's "Daisy Jones & the Six" proves to be a distinct exception. The melodies and tracks, along with the perfect casting and outfits in each of the episodes, capture the lawless and nostalgic 1970s atmosphere.
The book, told in a unique documentary format later in life, centers on the climb and downfall of a rock band, along with how the main character Daisy Jones fits into the story. The show perfectly demonstrates the heart-wrenching analogy of Daisy Jones's life in the episodes and it shows how music is a passion for her that stuck, even when others don't.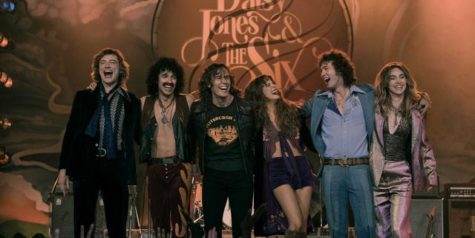 The show, which is streaming on Amazon Prime, contains an interesting set of cast members. It's quite ironic that Daisy Jones, a member of the rock band, is portrayed by Riley Keough, Elvis Presley's granddaughter.
The show follows the characters Billy Dunne, Daisy Jones, Graham Dunne, Karen Sikro, Camila Alvarez, Warren Rhodes and Eddie Roundtree.
Although the series adaptation did not include one of the original members of the band, the show still works because the character was not crucial to the story.
The show has the same general plot as the book, however it still contains different and new scenes that only make the show more interesting.
For example, the director chose to set up Camila and Billy Dunne meeting differently. In the book, the characters meet in a wedding, and in the show the characters meet in a laundromat. The absence of the character was deliberately planned by the directors so that the viewers could focus more on Billy and Daisy's relationship rather than the group as a whole.
Camila Alvarez is seen as the sixth member of the band crew in the beginning, working as manager and photographer even after Daisy becomes part of the band. The drama furthers as Alvarez marries Billy and becomes the mother of his child, all while he falls into abuse of drugs and slowly has chemistry with new band member Daisy.
This adaptation lives up to its book. The music and cinematography along with the chemistry of the actors help paint the picture of a 70s band. It shows the dark side of fame and problems of life through a passion-filled limited drama series.
Leave a Comment