Morning Music: Starting The Day Off On The Right Note!
This year, SGO 11th grade president, Noelani Getfield, has implemented morning music.
Every morning, at the beginning of first period, Noelani makes special announcements and plays a song to start the day off with a tune!
We got a chance to speak to her about this new feature at Pace. Here is what she said:
Ciara: Hello, Noelani. Firstly, how are the morning music songs selected everyday?
Noelani: There's actually a school wide Google form. On the Google form, students submit their music suggestions and from there I do a random pick. I make sure the songs are appropriate and clean. I basically screen all music before recording it. On days where I don't have a good selection of songs, I go on my personal playlist and choose a song from there or I would ask for recommendations from teachers. But yeah, that's usually how I pick the music.
Ciara: Oh, I see. Is there a schedule for the songs or do you decide what you're going to play the morning of?
Noelani: I actually choose the music the morning of. You really have to feel the vibe of the day. Like you can't play "I Got Sunshine" on a cloudy day. You really have to play the music based off of the vibe. That's why I usually wait until the day of to choose music. So I really try my best to pick a song that goes with the vibe of the day.
Ciara: That makes sense. Next question: what do you think are the benefits of morning music? What does it bring to the Pace community?
Noelani: I have heard from students and teachers that it puts them in a positive mindset in the morning. People have said it has encouraged them to do work and it brings them a lot of joy and it woke them up. It's a great way to wake people up in the morning. It spreads positivity and I think that different music and culture needs to be spread. And I think morning music is a great way to expose the students to different music genres.
Ciara: While we are on the subject of diversity, if there is a holiday, is there a theme you follow when it comes to the songs being played?
Noelani: For Black History Month, which was a very special occasion, I chose songs from the mid 1900s all the way to today. I chose spirituals, classics, hip hop, r&b, soul music, and reggae. I took all of that body of work from those Black artists and I incorporated them in the morning music. I also mentioned facts and I gave an overall idea of what Black history is. For Women's History Month, I'm doing a lot of songs from female artists like Arethia Franklin and other old-school artists.
Ciara: Oh, okay, nice! What made you want to implement this in the first place?
Noelani: As 11th grade president, I was trying to find ways to give the 11th grade a voice while also making it expandable to the rest of the school and doing something enjoyable. I think that motivated me the most. I was always trying to find something to do or to work with my presidency. Along with that, with school starting at 8:20 this year, I try to find a way to make the morning more pleasant. I guess morning music was my way of doing that.
Ciara: What is it like going on the PA system every morning? Is it nerve wracking?
Noelani: It is terrifying! Every single morning, I kid you not, I'm shaking when I'm holding the microphone. I'm worrying if something is going wrong, but thankfully I haven't been having technical difficulties. I realize that sometimes when I go on the loudspeaker, my voice starts to shake. And when I finish I take a big deep breath, and then I open the room and exhale the air so you guys can't hear it. [laughter] It's just terrifying, but you eventually get used to it as you go. I've learned to enjoy it. While I'm in the room, I start dancing around the office. I'm having fun! I try to make it more fun than making it like an assignment. So yeah, that's what I do.
Ciara: I know we already touched on this subject, but what else is included in the morning music?
Noelani: In morning announcements, the music goes at the end. I tell everyone the date, any announcements of the week. Like if there's a game going on after school, if clubs are meeting and I also talk about school events. Then, I also do some birthday shout-outs
(when students fill out the Google form, they can choose to have their birthday shouted out on the PA system) and teacher shout-outs.
Ciara: Do you plan on implementing morning music for the rest of your time at Pace?
Noelani: Yes! I plan on doing this every single morning as long as I am here!
View Comments (1)
About the Contributor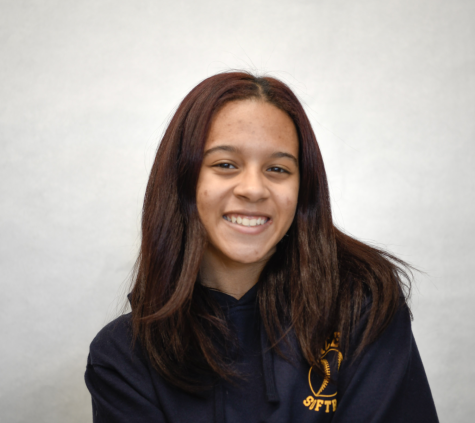 Ciara Garcia, Reporter
Ciara Garcia, a junior, is a driven person both inside and outside of the school's walls. She plays on the softball and volleyball teams. She enjoys listening...