Welcome to "Harry's House"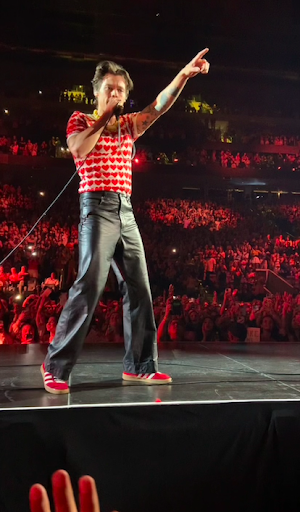 Rating: ⭐⭐⭐⭐☆
Harry Styles's new album came just in time for summer, and just in time for everyone on long trips for vacation. Harry's House is on repeat for many Styles fans and even those who aren't superfans of Styles.
Harry's House dropped May 20 of this year. The first single, "As It Was" was released earlier on March 31.
It became number two to one in Billboard charts for about eight weeks. The song also became very trendy on TikTok, being used for videos over 1.5 million times.
My most favorite song in the album is "Music For a Sushi Restaurant." Many people have realized that the opening for this song sounds exactly like the Disney Channel's A.N.T. Farm theme song, "Exceptional." As far as anyone knows, Styles didn't take inspiration from Disney's song, it may have just been a coincidence.
A second favorite song in the album is "Late Night Talking." This song gives off so many vibes, I don't know if I should dance to it or cry to it. "Nothing ever goes to plan" is one of the most relatable lyrics in the song, which is why it's my favorite. You could play this song for when you're on a road trip, or when you're out and about with your friends.
Many Style's fans camped out for one or more days to go into Style's "One Night Only" show. In that process many of them had met several famous influencers like Brittany Broski and Anthony Pham
Leave a Comment