Gender-Neutral Bathrooms at Pace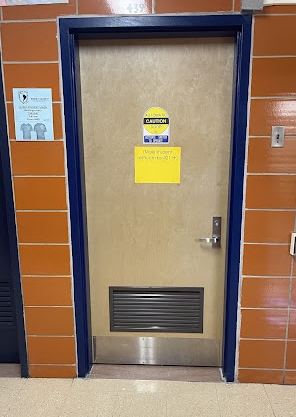 With more awareness towards students included in the LGBTQ+ community, they need to feel included at Pace. Traditionally, Pace has always separated girls' and boys' restrooms. Creating gender-neutral bathrooms allows all students at Pace to feel safe and comfortable.
Another step taken in the Respect-For-All Month in October was to emphasize the safe spaces for all students. According to one of Pace's Assistant Principal, Shannon DeRosa, "We do things as a school to promote that welcoming and safe atmosphere such as the different clubs that we provide."
"It's all up to the student how they want to transition into the school environment and how they want people to know," said DeRosa.
As a sense of security or discretion, it is not the business of other students to find out whether the student is transitioning unless they make it known. Hence why these gender-neutral bathrooms are essential for many of those in the community.
41% of transgender or gender non-conforming people have attempted suicide. The need for gender-neutral bathrooms is essential for many gender-nonconforming and transitioning students. The high rates of bullying for these teens are unacceptable for administrators to just look the other way.
It endangers the parents of losing their child for no one actually supporting them. While support may be difficult, it is never distasteful to have decent respect for students. The mental stability of trans kids is very important when considering how they want to be respected in their classrooms. If that is not established, there could be problems along the way for misunderstanding the comfort levels of trans students in school.
The fact that there is an issue on bathrooms may seem minor, but it is degrading for trans students. The years of elementary, middle and high school are the most crucial years for transitioning students. The most pivotal point for trans students is having to decide which bathroom to use: "girls" or "boys." Cisgender students would go to the girls bathroom if they are girls and vice versa with boys. However for transitioning students, they could be still stuck in the middle or identify with none of the above.
A way to get rid of these horrible scenarios is to introduce gender-neutral bathrooms. It allows students to have their own privacy especially if they are not comfortable with sharing their gender identity.
"By enforcing gender stereotypes on them, we are stifling this growth process," Brooklyn New School psychologist Joseph Klein says. Klein believes that the genderless bathrooms are teaching children important lessons.
Leave a Comment