Pacer NYC Journalists Win Top Awards at High School Media Conference
Three Pace student journalists earned Baruch College High School Journalism Awards on March 10.
The website Pacer NYC won Best Online Newspaper for schools that just started a journalism program in the past two years.
First place for school or community news writing in the citywide newspaper division went to Angel Mejia Ramirez, 11th grade. He won the award for his article " Underfunded Library Remains Off-Limits Despite States' Mandate," published in May of 2022.
The library issue is a well-known problem in our school and Angel's article explained in-depth the issue.
Ramirez said, "I was very shocked to hear about winning this award citywide since I wrote this article so long ago and honestly didn't expect to win anything." Ramirez also said, "This motivates me to come back to journalism next semester. I will definitely be thinking about joining journalism again."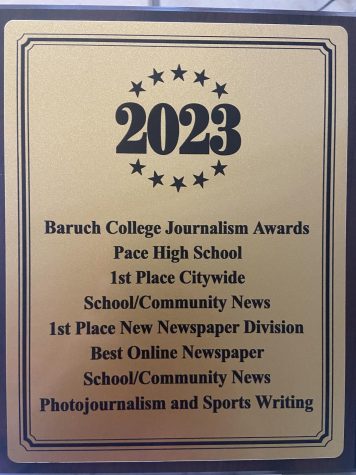 Pace's student news site, Pacer NYC, won the top award from judge Hasani Gittens, deputy editor of The City. Gittens noted, "The Pacer pops with great photos, a compelling layout, and a heavy mix of stories about sports and school life."
Student journalist Katelynn Seeteram won the award for sports writing for her article, "Girls' Basketball Team Dominated Their League this season." Seetaram said, "I am very proud of myself for winning this award. This was really a confidence boost and motivated me to continue to write articles."
She left journalism class for art this semester, but Seetaram said, "Next semester I am definitely joining journalism again to hopefully win another award for my articles." She hopes to continue her writing because at first she wasn't very confident. But winning this award really gave her a confidence boost.
Tenth grader Winifred Haastrup won the award for photojournalism in the new newspaper division. Her photo accompanying the story "Season of the Track Stars" published last year won her the award for best picture throughout various other schools in New York City.
Haastrup said, " At first I was very confused if I won or not because the announcer messed up the awards, but then when I received an email on Sunday from them saying I won the photojournalism award I felt so shocked and proud of myself."
She said, "I love journalism and taking photos brings me joy. So winning this award just motivates me to keep going."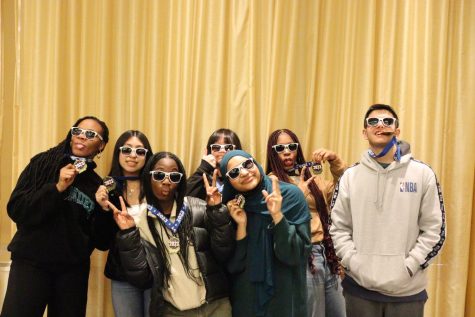 Baruch College awarded each student with a medal and certificate honoring their achievements in journalism. The Pacer NYC also got a plaque recognizing the great work of all the student journalists writing and taking photos.
Leave a Comment
About the Contributor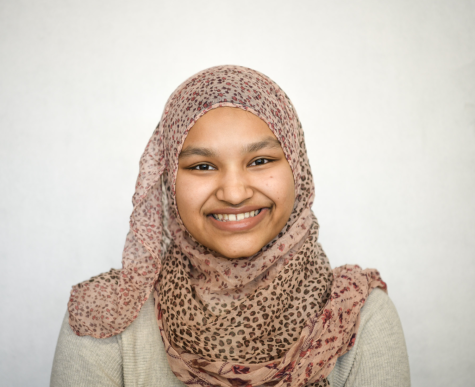 Raiyann Zaman, News Section Editor
Raiyann Zaman is a sophomore and the Pacer NYC News Section Editor. She is also the 10th grade SGO president. She is very devoted to her work and is a...